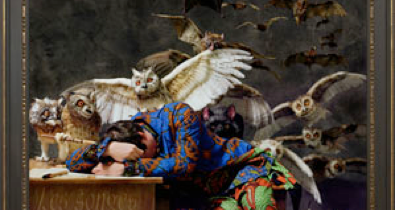 Det. from Yinka Shonibare, MBE, The Sleep of Reason Produces Monsters (Europe), 2008, c-print mounted on aluminum.  Courtesy of James Cohan Gallery, New York. 
Spanish Muse:  A Contemporary Response, The Meadows Museum, September 12 - December 12, 2010
After teaching about Philip the Good, last week I had a few minutes to rush through Spanish Muse.  It is a show to which I will definitely return before it closes in December.
So some musings about Muse.  The exhibition honors the Museum's 45th anniversary of its outstanding Spanish collection.  In addition to bringing out many of the Museum's treasures that haven't been up in years, work by contemporary artists inspired by Spanish masters are interspersed throughout the exhibition. 
I hurriedly darted through the galleries but here are among some of the things that caught my eye.  For starters, it was wonderful to see Pantoja de la Cruz's portraits of the Archdukes Albert & Isabella Clara Eugenia.  Isabella and I go back a long way.  I wrote a paper about her in graduate school.  I've taught around her peripherally in classes about Spanish art and spoken about her specifically when teaching about Peter Paul Rubens, who served as her confidante and diplomat.  SInce Flemish and Dutch art are among my favorites, I've always appreciated the love she had for the area and its inhabitants, unlike the contempt her father, Philip II of Spain, had for these subjects.  This particular portrait shows her looking straight out at the viewer, seemingly about to engage in conversation.  Her crisp white collar and jeweled outfit are as spectacular now as they must have been in the 16th century.  
Juan de Juanes' Christ being supported by two angels is also a favorite.  Christ draped in the angels' arms is framed so close to the picture plane that it is as if the viewer is part of this tight circle of mourning.  Magnificent.
However, this is the work familiar to many devotees of the Meadows.  What about the contemporary work that is being shown along side it?  It is fantastic.  José Manuel Ballester riffs on Bosch's Garden of Delights in El Jardín Deshabitado.  The Bosch has been part of the Spanish royal collection ever since Philip II bought it at auction in 1593.  Bosch was odd and Philip II loved his work for that.  In the Bosch painting, the Garden is a mythical, Dr. Seuss-like landscape inhabited by hundreds of naked souls.  Some are reading, some are eating, some are doing unusual things, some are involved in erotic activity.  There is a lot happening.  Ballester has stripped it of the humanity, leaving the landscape intact.  It looks so benign this way.  Its calm is the antithesis of the frenzy that Bosch painted.
Another treat to have locally is the video installation by Eve Sussman|Rufus Corporation, 89 seconds at Alcázar.  This 10-minute video performance piece puts viewers in the same room simultaneously with those portrayed in Velasquez's  Las Meninas.  It is atmospheric, ethereal and stunning. 
There is much more to see and explore of both the permanent collection as well as the contemporary work on loan.  We rarely have an opportunity to see the work of contemporary European artists in Dallas so this is a rare treat.  I'm planning on going back to take it all in.  I hope you will get there to see it, too.