Art à la Carte organizes special events throughout the year, including private receptions with artists as well as special tours at galleries and interesting art spaces.  Nancy also conducts tours for private groups and clubs.
In August, 2011, Nancy moderated the panel The Future of Contemporary Art and its Economies at the Ross Akard Gallery.  Panelists included Chris Byrne, the cofounder of the Dallas Art Fair as well as artists Shannon Niehus, Glenn Comtois, Gert Johan Manschot, and Jason Reynaga. 
Past programs have included the following:
The Chinese-French Connection, a program offered with Kyle Stewart, of The Cultured Cup focusing on Paris at the time of Louis XIV, China during the Ming dynasty and, among other things, how tea connected them.
West Meets East:  Reconciling Asian and European art, a three part lecture series Nancy gave at the Crow Collection of Asian Art.
A private tour of the Nasher Sculpture Center with local art legend Edith Baker;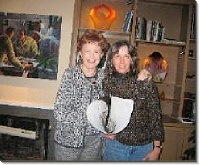 Edith Baker and Denise Brown after Denise's Open House presentation
A private cocktail reception and lecture on Cuban art given by Janda Wetherington, Associate Director of Pan American Art Projects and documentary film maker;
An afternoon of coffee and glass with David Keens, master glassblower and Associate Professor, Department of Art and Art History, University of Texas at Arlington;
An evening of cocktails and art with art consultant Paul Adelson;
Open House and artist's talk featuring Denise Brown;
Private cocktail reception with Maloree and Bob Banks of Banks Fine Art;
Open house and artist's talk featuring sculptor Phillip Shore;
Open house and artist's talk with painter Nancy Lamb