Art à la Carte invites you to join us for one of our art history classes, tours, or special programs.
Founded in 1997 by Dallas-based art historian Nancy Cohen Israel, Art à la Carte is a company specializing in art education.  Through a variety of programs throughout the North Texas area, including tours and lectures, Art à la Carte is dedicated to educating the public about classical and contemporary art by bringing together art enthusiasts with local artists and art professionals. Nancy also writes about the local art scene for publications such as Patron and formerly for Arts + Culture magazine. 
Nancy also teaches a variety of art history courses throughout the Dallas area. For a complete listing of classes she has offered, please view her CV. 
For 15 years, Nancy organized and led the popular tour series Second Saturdays, which brings participants to artists' studios, galleries and private collections. Nancy also organizes customized tours for local and out-of-town groups.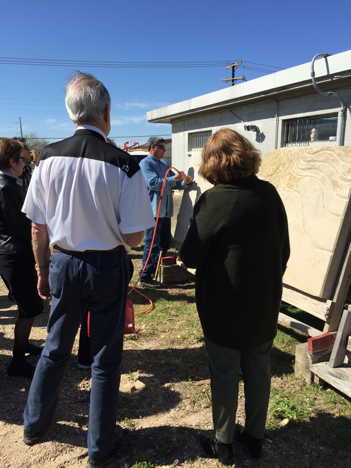 Sculptor Eliseo doing a demonstration for a group of visitors from abroad
Additionally, Art à la Carte organizes spring trips outside of the area.  In 2001, Nancy took a group to The Netherlands for a Golden Age tour.  We also regularly visit Marfa, the state's hottest artists' mecca as well as other art destinations around Texas.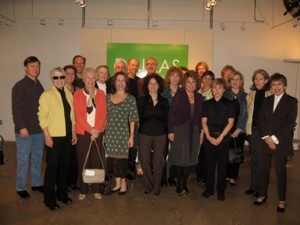 Group at the Dallas Art Fair
Nancy earned her Master of Arts degree in Art History from The George Washington University in Washington, D.C., where her area of concentration was Renaissance painting.  During her time in Washington, she worked as an exhibition coordinator at The Trust for Museum Exhibitions, a non-profit organization devoted to organizing international traveling art exhibitions.  In 1991, Nancy returned to Dallas where she served as the McDermott Intern in Education at the Dallas Museum of Art.  After her tenure at the DMA, Nancy made the leap into contemporary art during a four year stint as the director of the former Edith Baker Gallery.  For a more complete CV, please click here.