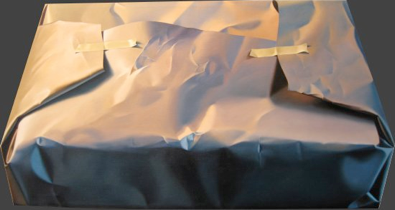 Yrjo Edelmann, Mental Function Beige Perspective, 17.75 x 33.5", oil on canvas
David Brown, Yrjo Edelmann, Marla Ziegler, Craighead Green Gallery, through December 29, 2010
This is one of the best gallery exhibitions I have seen in ages.  It is always a tricky bit of business to find three artists whose work is both compatible and harmonious when seen along side one another.  Often one artist is stronger than the others.  Rarely are all three breathtaking.  In Craighead Green Gallery's current exhibition, they are. 
David Brown's colors are the first visual lure.  Scarlet reds, royal purples and golden yellows dominate the panels that comprise his work.  Of the larger work two dozen individual, enameled squares are placed together to create a visual whole.  The effect is of a large golden disk floating over a field of color.  But upon closer inspection, the reality is that within the yellow orb, Brown has painted millions of golden spirals that create a pulsing rhythm.  He uses this motif repeatedly, each time creating a different visual effect.  The smaller works on paper, 25 of them in each installation, that have the same energy.  But in these, the spirals are painted with silver gel ink on paper.  He is equally adept working in black and white.  In the bifurcated America of today, there is a map showing all the states, each formed by Brown's black spirals - refreshingly not a red, blue or purple state in sight.  This is his first exhibition at Craighead Green.  I look forward to watching his work for a long time.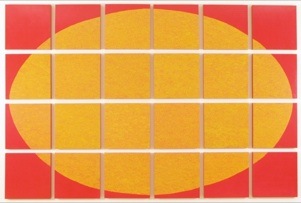 David Brown, Yellow Oval, 114 x 80", enamel on panel
Both Yrjo Edelmann and Marla Ziegler are gallery veterans.  I have always liked their work and both artists have brought renewed energy to this exhibition.  Edelman has always specialized in painting wrapped packages.   That he can paint paper and twine with amazing skill is a well known fact.  In this show he adds the elements of shaped canvases as well as foreshortening that would make Manet cry.  And his palate is extraordinary.  Silvery grays, shiny pinks, and the mintiest of greens captivate viewers as they walk into the gallery.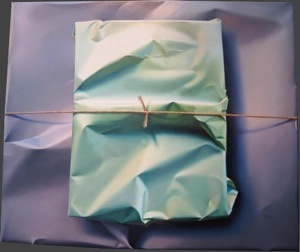 Yrjo Edelmann, Mental Function Beige Perspective, 17.75 x 33.5", oil on canvas
Marla Ziegler's work has probably taken on the newest direction.  This body of work highlights her incredible facility with clay, a medium in which she has excelled for years.  Some of the works, such as "Hush of Night" are recognizable to anyone who has been following her career.  But then we walk into "Twilight Tide", in which 40 "waves" undulate across the gallery.  In "Winter Tale", rods of twisted clay tumble across another wall.  And could "Endless Bounty" augur a completely new direction?  In it, balls of clay, somewhat resembling shelled walnuts, are installed seemingly at random across the wall and then connected by pencil lines.   It is controlled and free at the same time.  It will be interesting to see where this path leads.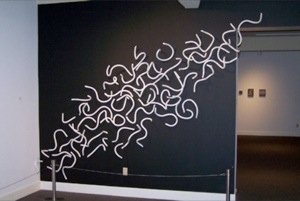 Marla Ziegler, Winter Tale, installation specific, 72 x 72 x 10", bisque clay             
Art is a perfect antidote to the frenzy of the holiday season.  This exhibition, as well as others in the Design District, will be up through December.  Come down, breathe and be engulfed by the really magnificent work of each of these artists.