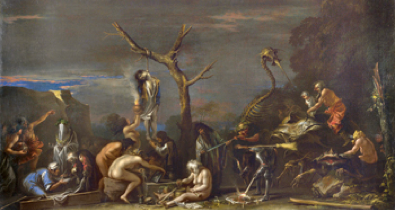 Scene of Witchcraft, c. 1646–49, oil on canvas. The National Gallery, London. Bought, 1984
Salvator Rosa:  Bandits, Wilderness and Magic, Kimbell Art Museum, through March 27, 2011
While I appreciate contemporary art, I am still an art historian at the core.  And so it is that I am always thrilled to see exhibitions focusing on art prior to 1700.  Many thanks to the Kimbell for hosting this exhibition of Salvator Rosa (1615-1673), the first of its kind to be seen in the United States.  
Painting in the mid-17th century, Rosa was a bad boy in the tradition of Caravaggio, the memory of whom was still very much alive in the Italian peninsula.  Rosa wooed the art cognoscenti of his time while spurning them privately.  Perhaps it is for this reason that most of his portraits are allegories as opposed to actual likenesses.  And maybe this is also why the major commissions he sought alluded him.
Born in Naples, Rosa studied with Jusepe Ribera, among others.  The influence of Ribera's brooding, emaciated figures can be seen in Rosa's work for much of his career.  By the 1630s, Rosa was in Rome, soaking up both the art as well as the commissions during that fervent time of artistic patronage.  In an effort to pursue the big commissions, his subject matter tended towards the unorthodox.  As the exhibition title alludes, he painted witches at the craft, bandits at their work and animals at their trough.  The latter was actually an allegory of papal corruption.  As he paints in Fortuna, the Church enjoys the fruits of the horn of plenty, including the visual, literary and performing arts (Rosa was also a poet and playwright) but are too obtuse to appreciate them.  He ultimately had to apologize for the depiction.  Yet the painting remains.  Had he painted it a few years later, during the Council of Trent, it probably would have been destroyed as heretical.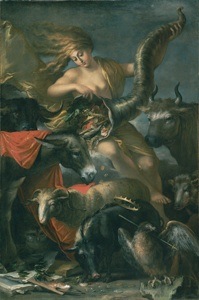 Fortuna, c. 1659, oil on canvas. The J. Paul Getty Museum, Los Angeles
While these images of humanity living on the fridges of society are some of the most interesting works in the exhibition, there is also a large body of Rosa's landscapes, a genre for which he was particularly well known.  Rosa frequently traveled the roads between Naples, Rome and Florence and he captured their essence in these works.  While there is some human presence, such as the hermits in various Landscape with Hermits, their natural surroundings not only dwarf them but clearly take precedent over their earthly beings.  They are of seen as precursors to the paintings of the sublime so popular during the Romantic era of later centuries.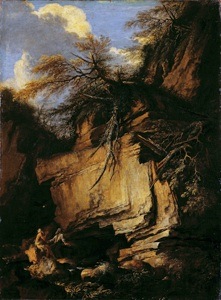 Landscape with Hermits, c. 1660–65, oil on canvas. Sir Denis Mahon Collection, London, on long-term loan to the National Gallery of Scotland, Edinburgh
There are only 36 paintings on view in this exhibition, which might beg the question Is it worth the drive from Dallas?  Absolutely.  If you enjoy great painting and want to see an unusual side of the 17th century, replete with witches, bandits and general wilderness, then this is an exhibition to see.