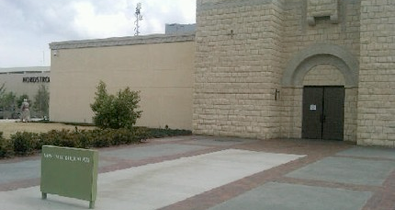 The Museum of Biblical Arts, Dallas
Raise your hand if you've been to the Biblical Arts Museum since it reopened on Good Friday of this year?  Uh-huh.  That's what I thought.  I was invited to the opening but could not make it.  And I kept meaning to get there.  I am across the street at NorthPark almost weekly for classes at the Apple store so it is not as though it is out of the way.  I just haven't made it. 
This week, Denise Brown, who is a friend as well as an artist with work in the current exhibition, met me at the Apple store and took me across street to the Museum.  It is wonderful. 
The current exhibition includes the work by several of Dallas' notable artists.  In addition to Ms. Brown, the work of Pamela Nelson, Artello Beck, Bill Komodore, Barnaby Fitzgerald, Jean Lacy, Nancy Rebal, Lyle Novinski, Sedrick Huckaby, Ron Cheek and many others is on display.  The one criteria seems to be that the work have a spiritual element about it. 
Much of the work is religiously ambiguous.  Denise has two works in the show.  The newer piece, Tree of Life, is a tour de force.  The  intricately carved frame is amazing, filled with metaphors about growth, personal as well as economic, and industry.  The central image, which is richly carved onto tar paper and then sewn onto canvas, has many of the motifs central to her work.  These includes birds and their illusive nature, as well as her elegant trees and vines.  The clouds are a new element for her and they are big and fluffy, belying the dense material on which they are incised.  Interwoven through this is the sense of a story being told which is pervasive in all of her work. 
Other work is Christian in nature but with a very contemporary spin.  Artello Beck's Resurrection shows an African-American Christ, surrounded by apostles, with light radiating from his fingers that seemingly extends into the gallery itself.  Ron Cheek's Beautiful Feet is one of my favorite works in the show.  It is a hyperrealist painting of Christ on the Cross.  Only it is shows him from the lower legs down.  It is as if the viewer is present at the Crucifixion.  Stunning.  Barnaby Fitzgerald's Saint Christopher is also magnificent.  Here, the giant saint is fording the river, which comes up to his eyes.  We get a view of his massive body underwater, with Christ the baby sitting safely on his shoulder.
But this is not all there is to see of the Museum.  The permanent collection features a number of fantastic works.  There is the suite of Chagall prints that line one corridor while the work of Käthe Kollwitz lines another.  I know, who knew?  That it all survived the Museum's tragic fire in 2005 is a miracle.  Another stunner is the enormous Tapestry of the Century, a mixed media work by Vladimir Gorsky that is an encyclopedic look at the 20th century. 
And in addition to a gallery of mostly Christian work, there is a gallery featuring the Swed Masters Workshop.  These artists are making intricate, delicate contemporary Judaica.  Denise & I were also fortunate enough to get a preview of the exhibition opening in October that will have, in addition to traditional Judaica, the work by some of Israel's leading contemporary artists as well as work by American Jewish artists, including Jack Levine.  Known primarily for his mid-20th century Social Realist works, Levine, born in 1915, is still painting and showing his work. 
So keep this place on your radar.  If you've seen all the other museum shows in town and want to go somewhere different, go to the Biblical Arts Museum.  It is truly a treasure in our midst.